Formation of the Bible
New this week (Jan 22nd): I recently uploaded an article I wrote which is relevant to this class: "The Christian Canon and the Problem of Anti-Semitism." Not required reading but it does address some of the issues raised in the past week's discussion, and it's short :-)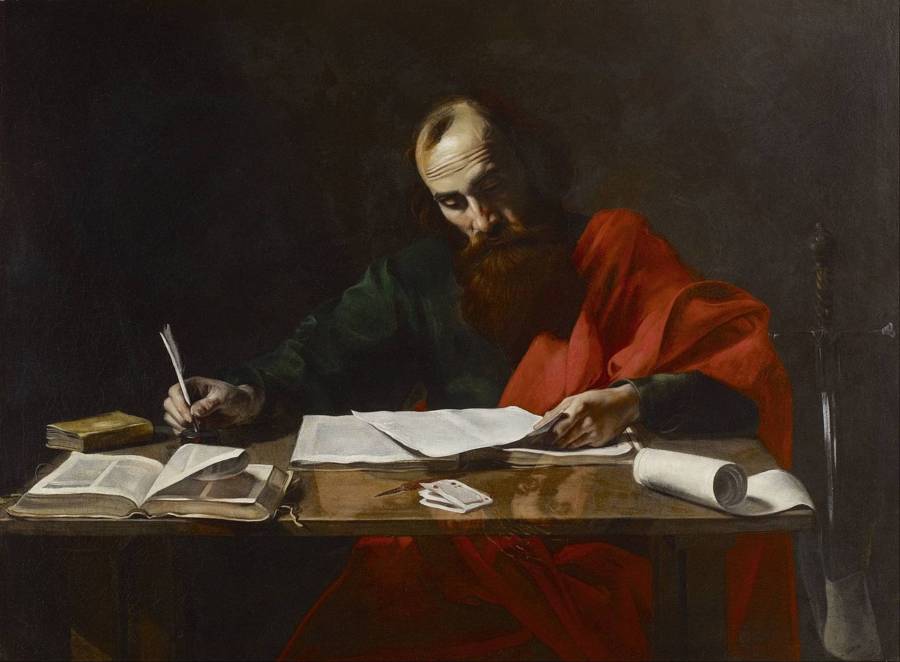 Instructor:
Pamela Eisenbaum, Professor of Biblical Studies and Christian Origins
Course Description:
This course focuses on the production and development of Jewish and Christian writings as sacred scripture, the creation of authoritative collections, the process of canonization, and key concepts and material practices that inform our understanding of Bible as the central locus of power, authority and tradition. The chronological expanse of the course is broad—necessarily so since the writings that now comprise the Bible were composed over centuries—but the bulk of our time will be spent on the Hellenistic through the late Roman period. The kinds of questions we will pursue include: the who-what-when-how of the texts that now comprise the Jewish and Christian Bibles; How did these texts become authoritative and why? Why did some texts become scripture and others (sometimes very popular others) not? Who got to decide? Did Paul think he was writing scripture when he wrote his letters? Is there a difference between scripture and canon? Why do Christians have an "Old Testament"? Why don't Jews have a New Testament? How did so many different kinds of writings get put together into one book? Do all Christians have the same Bible? Is the idea of biblical canon unique to Judaism and Christianity or do all religions have a "Bible"? How were these texts preserved? Why are we so invested in reading and interpreting biblical texts?
1. To become familiar with the historical forces that shaped scripture and the process of canonization through course readings and discussion;
2. To develop awareness of the current critical debates about the formation of the biblical canon through class readings and discussions;
3. To formulate your own perspectives on the issues surrounding the formation of the canon, as well as the status and authority of the Bible, by means of class readings, discussions, and the final project.
John Barton, Holy Writings, Sacred Text: The Canon of Early Christianity (WJK, 1998)  ISBN 978-0664257781
David Dungan, Constantine's Bible: Politics and the Making of the New Testament (Fortress, 2006) ISBN 978-0800637903
L. M. McDonald & J. A. Sanders, eds., The Canon Debate (Peabody, MA: Hendrickson, 2002). ISBN 978-0801047084
F.E. Peters, The Voice, the Word, the Books: The Sacred Scripture of the Jews, Christians, and Muslims   (Princeton, 2007; Digital form is print replica produced by Amazon Kindle 2018)  ISBN 978-0-691-13112-2
Timothy Beal, The Rise and Fall of the Bible: The Unexpected History of an Accidental Book (Houghton, Mifflin, Harcourt, 2011) 978-0151013586
 Weighting of Assignments

Participation 20%
Short Papers 30%
Final Paper 40%
Quiz 10%

Grade Scale
A  100-94
A-  93-91
B+ 88-90
B  83-87
B- 82-80
C+ 78-79
C  77-73
C- 72-70
D 69-63
F <63
| | | | |
| --- | --- | --- | --- |
| Date | Day | Details | |
| Jan 10, 2019 | Thu | START HERE: Week One Jan 7-12: Scripture, Canon, Bible | due by 06:59AM |
| Jan 17, 2019 | Thu | Week Two Jan 14-21: Narrating the Origins of the Bible | Short Papers | due by 06:59AM |
| Jan 24, 2019 | Thu | Week Three Jan 21-27: Jewish Bible and Christian Old Testament | Short Papers | due by 06:59AM |
| Feb 07, 2019 | Thu | Week Five: Gathering Days! | due by 06:59AM |
| Feb 07, 2019 | Thu | Week Four/Five: Jan 28-Feb 6: Big picture ways of thinking about Christian scripture, canon, and Bible | due by 06:59AM |
| Feb 08, 2019 | Fri | Quiz: Terms and Cast of Characters | due by 06:59AM |
| Feb 15, 2019 | Fri | Week Six Feb 11-17: Materiality, Textuality, and the Bible as Interface | Short Papers | due by 06:59AM |
| Feb 22, 2019 | Fri | Week Seven Feb 18-24: Readers, Writers, Interpreters, Transmitters | Short Papers | due by 06:59AM |
| Mar 01, 2019 | Fri | Week Eight Feb 25-Mar 2: The Imperial Bible | Short Papers | due by 06:59AM |
| Mar 07, 2019 | Thu | Week Nine: So What is the Bible--really? | Short Papers | due by 06:59AM |
| Mar 09, 2019 | Sat | Participation | due by 06:59AM |
| Mar 14, 2019 | Thu | Final Paper - Masters Students | due by 05:59AM |